Leaves have deep symbolic meanings in every culture on earth being a vast source of inspiration in tattoo art and the maple leaf is no exception. A maple leaf tattoo might serve as an emblem to express your patriotism and pride of being a Canadian, as the maple leaf is one of the most popular symbols of Canada.
In Japan and China, the maple leaf is a symbol of lovers. North Americans used to put maple leaves at the feet of the beds as a protection against demons and to stimulate sexual desire and for a deep sleep. Also, in the North American region, the stork can be seen bearing maple leaves in its nest, therefore, the maple leaf is seen as a symbol of love and is associated with the birth of a baby.
The maple leaf is a symbol of autumn and it is associated with the nature that constantly changes, so if autumn is your favorite season you can express it through a maple leaf tattoo. Also, maple leaf tattoos can be inked on lovers as an oath of love and fidelity.
But you don't necessarily have to be Canadian or consider the classic symbolic meanings of the maple leaf, you can simply get a maple leaf tattoo for its beautiful design and put your own symbolism in it. Take a look at our list of 33 maple leaf tattoo ideas below and get inspired!
 Photo: tattooist_flower
Photo: tattooist_flower
 Photo: oscarakermo
Photo: yelizozcan_tattooer
 Photo: ilwolhongdam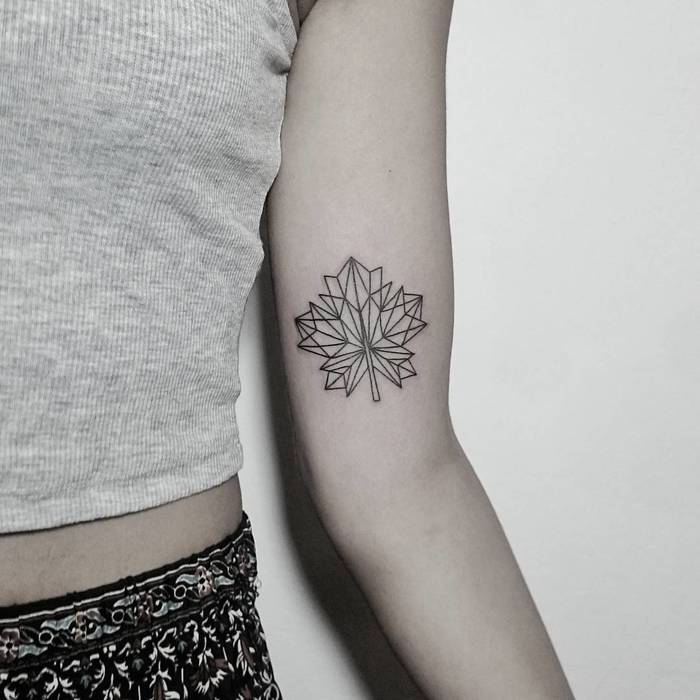 Photo: denizhanozkr
 Photo: pokeeeeeeeoh
 Photo: hakanadik
 Photo: j.mo_ink
Photo: bythestrange
 Photo: raerobinsontattoo